The daily volume of Bitcoin futures has increased significantly over the past month.
While the daily trading volume of various futures platforms continues to increase, the futures market continues to grow.
Hacim Artıyor
Skew verilerine göre Bitcoin vadeli işlem piyasasının günlük ticaret hacmi geçtiğimiz son birkaç hafta içerisinde neredeyse düzenli bir şekilde artış gösterdi.
CME Group, Bakkt, Binance ve benzeri platformlarda yapılan işlemler özellikle bu ayın sonlarına doğru çoğaldı. Öyle ki vadeli işlem piyasasının son bir ay içerisindeki en düşük ticaret hacmi 5 milyar dolardı.
Bitcoin Futures market trading at least $5bln on a daily basis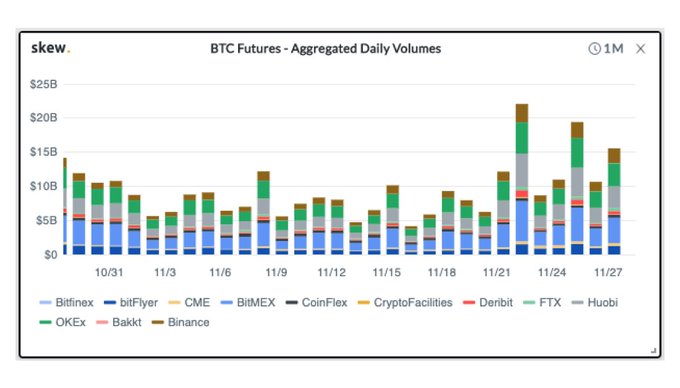 As can be seen in the table above, this volume has exceeded the level of 15 and even 20 billion dollars especially in recent days.
Market Moving
The crypto money market has been very active in the last few days. This activity is reflected in the futures market.
Bakkt, which has become one of the most popular crypto currency platforms since its opening, broke its own record by reaching more than $ 40 million in volume just a few days ago. This is an indication of how not only Bakkt has grown, but also the futures market.
Source: Bakkt Bot